Library rates, locations & hours
Public Library of Utrecht
Good to know
You can register online or in the library. Bring a valid passport, ID card or driving licence with you, including when collecting your library card after registering online.
With your library card, you can borrow and return books at all libraries in Utrecht province, with the exception of Nieuwegein.
You may have overdue fines of up to € 10.00 for a maximum of 30 days. After that, your card will be blocked until you have paid. If the overdue amount is € 10.00 or over, the card will be blocked immediately. After two months, you will receive a bill with additional administrative charges of € 2.50.
If your card is lost or stolen, you can buy a replacement card for € 3.50. Please don't forget to block your lost card in 'mijn menu' ('my menu').
Your membership is valid for one year and is automatically renewed for a year. You can cancel your membership no later than 4 weeks prior to the renewal date through the website, by e-mail to ledenadministratie@bibliotheekutrecht.nl . If you have been a member for more than a year, you can cancel at any time during the year. The amount for the remaining months will then be refunded to you, with a deduction of € 5.00 administration charges.
We reserve the right to change rates and conditions. You can find our conditions in our General Rules and Regulations: please refer to our website.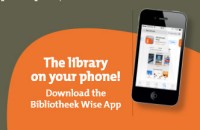 The library on your phone. Use our Bibliotheek Wise app!
Download the app here:
Getting around in the Public Library 5 golden tips for members

Tip 1: Borrow and return anywhere
Use your library card to borrow and return items at any library in the Province of Utrecht (except Nieuwegein)
You have access to more than 2 million books, e-books, e-audio books, magazines, CDs, DVDs, Blu-rays and games…
Tip 2: Free online holds and renewals

Use the 'Catalogus' (Catalogue) on our website to reserve items online (free with a standard membership and a children's/teen's membership, age 17 and younger).
Use 'Verlengen | Mijn menu' (Renew | My menu) to access your own account.
You can check the details of the books you have borrowed and renew items here.
Tip: log in regularly to make sure your loan period has not expired!
Tip 3: Never overdue again?

Subscribe to the 'never overdue again service'.
Several days before your loan period expires, you will receive an e-mail message.
For more information on this service, please see the desk clerk at your library.
Tip 4: Always the latest books

The collections in our branches are updated every week.
You can recognise new books by the 'New' sticker.
You can also find a list of the latest titles on the website.
Check out the Sprinters: Topical books that you can borrow virtually immediately for one week.
Tip 5: Borrow e-books and e-audio books for free

As a member of the library, you can read and listen to digital material for free.
You can make an account on the special e-books page