Practical information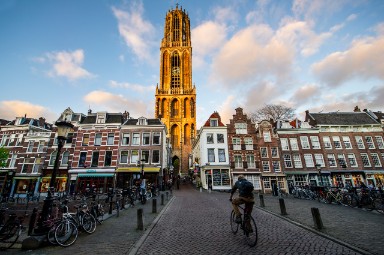 Practical information on getting to and around Utrecht.
Utrecht in the Netherlands
Utrecht is the fourth city in the Netherlands, dating back from the days of the Roman empire. Utrecht has a population around 360.000 inhabitants. The medieval center of town houses many monuments; ranking second to Amsterdam. The city is located in the center of the Netherlands with good connections to Amsterdam, Rotterdam and The Hague by public transport. (Image: Ramon Mosterd)
---
Getting there
If you arrive at Schiphol airport there are 4 trains per hour bringing you to Utrecht Central station in 35 minutes, for about € 9,50. From there (almost) everything is within walking distance. Taxi's are expensive in the Netherlands. Set fees start at € 65,- onward; metered trips from the airport to Utrecht might go up to € 110,-. If you arrive by car, be aware that a car is hardly useful and parking is really expensive. Consider to leave your car at one of the Transferiums at the edge of town and continue by public transport.

Getting around
You can buy single journey tickets for trains and buses (by card). The OV-chipcard however is the way to travel by public transport. You put a credit on it and check in and out at every travel by train, tram or bus. The fee is deducted automatically.You can buy it at vending machines in the baggage hall of Schiphol airport, trainstations and at many vending points. Starts at €7,50; more credit can (and has to be) loaded

Stay in Utrecht
We don't have special arrangements for the conference.You can chose to stay close to the central railway station (3 blocks from the library): Inntel Hotel Utrecht Centre, Hotel NH Utrecht (Jaarbeursplein), Parkplaza Utrecht.There is also Hampton by Hilton Utrecht, in between central station and the library.Or you can chose to stay more in the center of town closer to the library (1-2 blocks away): Apollo Hotel Vredenburg, Mother Goose Hotel, Eye Hotel, Hotel NH Centre Utrecht.Budget is Stayokay Utrecht Centrum just opposite the library at Neude square.High end is the Grand Hotel Karel V, some 10 minutes walk from the library.

Climate
May can be sunny and almost like summer. But we advise to take an umbrella and a warm sweater as well.